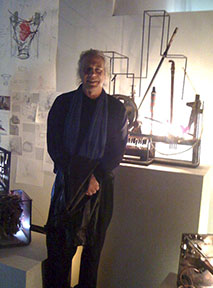 "My favorite piece is the next one."
Tom Robinson -- artist, curator, builder, arts administrator, competition founder and judge, teacher, innovator -- has been a driving force in the Chicago art scene for over 30 years.
WOW 2015 I have painted thirty new oil paintings on panel in the last 16 months. Visit 'painting' section of this site or better yet come see them at the studio. 773 477 7913
Redmoon again: March/April 2013 creating 'steamer trunks' for RM production of "The Elephant and the Whale" see see2
July 2012, Redmoon and digital film group Leviathan descend upon my studio to make stage sets for musician Amon Tobin's tour "Wooden Toy". Displayed at Leviathan studios September 21.
Working with Elizabeth Whiting for my February 2012 Union League Club of Chicago exhibit was truly a pleasure. I felt like an "Artist".
Well it is August 2011 and I just finished my eleventh set of Twins, "Heather 11" view. I think they are my best. The plan, eleven sets by 11/11/11 and I did it. Open Studio Press will publish them this summer. New American Paintings edition #95. Wish me luck I need some sales.
2010 brought a whirlwind of projects, the "Make Believe" competition. Red Moon, Mucca Pazza (Operamatic) and travels to New York looking for representation.
2009 I have completed nine large oils on paper "After Apnea"
In May 2007, Frank Maugeri and Jim Lasko of Redmoon Theater asked me to be part of the "Alphabet Project," Spertus Museum's
wall of sculptural letters with connected art boxes. I got to design and build the letters C, I, O, W, and X.
Spertus has invited Jim and Architect Odile Compagnon to lead the design of the innovative Gray Children's Center of their fabulous new building. The Alphabet Project, for me, was a dream come true. The children's wing will open October 26th 2008.
In 2007 students from Chicago's North Avenue art therapy program, C4, started visiting my new studio. Over a period of several visits, staff art therapist Dali McGuire hit upon the idea that I should do charcoal portraits of her students, and, in a collaboration with their self-portraits, we would produce an art show to be held in December of this year.
"It seems to me that your style of portraiture feels somehow parallel to what I often observe of the kids themselves - edgy, tough, full of contradiction and contrast, movement."
The exciting result has been a unique opportunity for the kids to see themselves through an artist's eyes and to expand the notion of who they are in much broader terms.
Tom studied design at Ohio State University. Discharged from the Navy at age 27, he began creating and building 2 and 3 dimensional art and furniture immediately and never looked back.
As a multi media artist Tom has used woods, watercolors, oils, acrylics, plexiglas, and industrial components like aircraft cable and clamps to explore figure drawing, oil painting, sculpture, furniture design, sculptured lighting fixtures, and construction in depth. Over the years he has been influenced by the Bauhaus Movement, Alberto Giacometi, Joseph Cornell, Horst Janssen, Art Moderne, the Arts and Crafts Movement, and, most recently, William Kentridge, Japanese Anime and Manga.
Today Tom is a working artist in his new 3000 sq. ft. North Avenue studio/gallery. Creating site-specific furniture and lighting as well as series of oil paintings, drawings and sculpture. He has completed numerous commissions.
In addition to creating art, Tom is also a curator and master at and has done so for a wide variety of public and private clients. Including local galleries, designers, architects and framers. Have Tom hang your new acquisitions or even rework your entire collection to give your home a vital new look.
While serving as the Executive Director of the Chicago Furniture Design Association, he created and produced a nationwide miniature furniture show as part of the very popular SOFA show in Chicago (Sculpture, Objects, Functional Art). He worked with the SOFA Director, Mark Lyman to execute the exhibition. The show was so successful it continued for several years and many of the pieces were shown at Chicago's Ann Nathan Gallery.
Tom worked with the Chicago Artists' Coalition for three years helping set up Chicago Artists Month. From this experience he conceived of a large non-juried art show for the whole of Chicago. In collaboration with the CAC's Betty Anne Mocek the idea was brought to life, the Chicago Art Open.
Along with the other directors of Windy City Arts, Tom curated Flights of Imagination. A non-juried show that exhibited the work of 100 artists at Chicago's prestigious Cultural Center. The Center's Curator, Greg Knight referred to the display as one of the best installed shows exhibited at the Center.
Other events created and curated by Tom include Local Heroes, Corian 2000 Exhibition, Suite Home Chicago, and The Totem Project.